We are building the technology foundation to support a new generation of smart mobile applications that a user can talk to in order to practise industry-specific communication protocols in an immersive context.
High hazard, high consequence occupations across aviation, defence, fire and rescue, maritime transport, security, law enforcement, energy production and mining operations require personnel to follow strict protocols while performing their duties.  More often than not, knowledge and practise of key scenarios, with the use of specific vocabulary and phraseology is required to transmit information effectively to maintain safe operations.
On the job training as often witnessed is limited to routine scenarios, covering too few situations in order to assess a learner's competency. On the job training is also slower because students and new-recruits are having to deal with other tasks making it difficult to focus on communication protocols. They often find themselves stressed, overwhelmed or unable to communicate effectively.
Research in psychology suggests that learning skills in isolation (chunking) before integrating them with other skills produces more desirable results.  Our platform addresses those issues with comprehensive coverage of scenarios so users can learn communication at their own pace with undivided attention.
To become proficient and certified for the workforce, students need to learn their industry-specific language and keep practising until pronunciations and call structures meet the required level of proficiency.
We rely on existing industry-specific standards to establish levels of proficiency and work closely with domain experts to validate each learning curriculum.
Our platform gives students the tools to learn and practise language and pronunciations outside the classroom in an engaging, accessible and effective way.
Realistic training scenarios
We work with industry experts and leading researchers to develop tailored, accurate and engaging voice-based communication scenarios that students will face in the workplace.
The quality and currency of each scenario is essential to helping students build a clear mental representation of each situation, so they can engage safely with the practice. Interactive and realistic scenarios keep students engaged and clearly show the practical application of the theory they are learning. Students need time to learn those foundational language and communication skills while developing situational awareness, without the added pressure of learning on the job.
Our platform aims to cover all possible scenarios a learner needs to practise at each level of competency.
Track and assess student progress
We work with experts in language technologies to constantly improve speech recognition performance so the feedback we provide to users is relevant and accurate.
Our feedback allows students to correct mispronunciations or incorrect vocabulary or phraseology, ahead of using them in the workplace.
Not all students can speak fluent English or they may speak with an accent. Addressing accented speech is one of our strengths and we continue to invest in speech technologies to support non-native English speakers with feedback that remains accurate and actionable.
Tailored reporting allows teachers and instructors to monitor student progress and supports evidence based best practices for industry assessments and certification.
We're developing technology to help pilots and aviation professionals learn Aviation-English while talking to a mobile application.
Air travel and drone use are continuing to grow, while the qualified workforce is in decline.
Experts estimate an 800,000 commercial pilot shortage over the next 20 years.
40 per cent of those are expected to fly in South East Asia.
Non-native English speakers do not trust speech recognition technology to be accurate enough for their needs.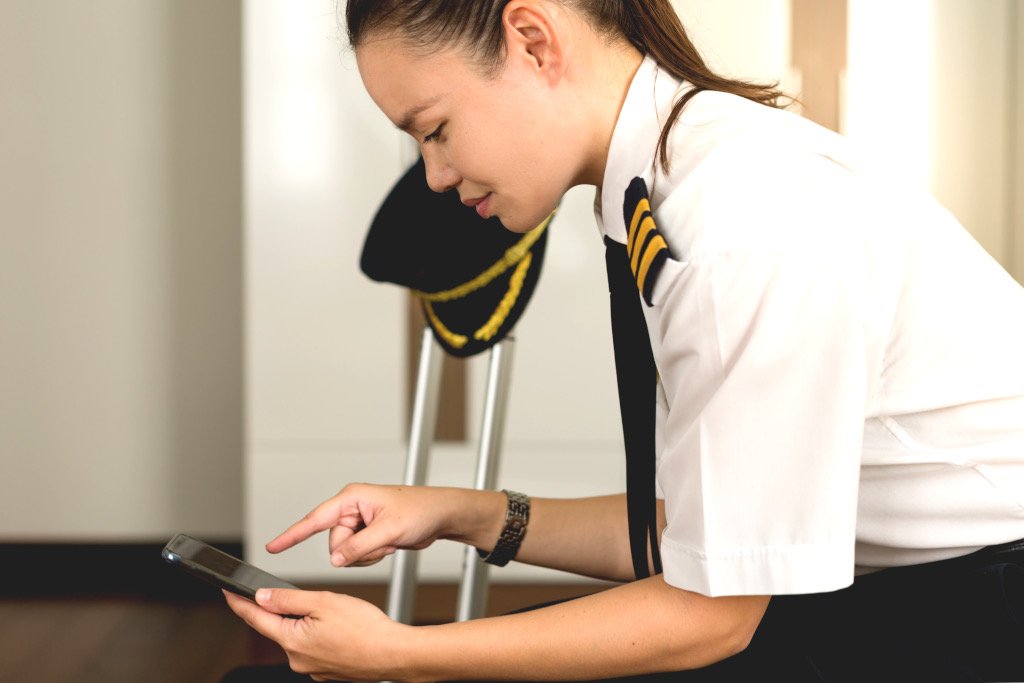 Every student deserves the same benefits from using technology and will benefit from learning directly from their personal mobile device, anywhere, in their own time.
We are using our platform to build a new aviation communication mobile app capable of addressing the needs of the future international pilot workforce, ensuring their communication learning covers the widest range of scenarios, from routine operations to challenging situations. To achieve this, our team relies on tested user centred design techniques, where user interface and features are put to the test, time and time again until they feel completely natural to users. An aviation communication app designed by student and experienced pilots, for pilots and for the aviation industry.